Improving Energy Efficiency in Cold Storage Facilities
While most people's interaction with cold storage is limited to their fridges and freezers, in reality, the cold storage facilities are an essential part of every consumers life. For the most part, they provide a way for us to move and store HUGE amounts of produce without it all going bad. In addition, they also serve as junctions for the produce as it splits up and goes to its final destination. As such, if you like your fruits and vegetables fresh (like we do), then cold storage energy efficiency should be important to us all.
What Is a Demand Charge?
We all know that depending on how we use energy, we are charged differently. For most of us, that is to say non-commercial energy consumers, our energy bill comes in the form of a flat-rate based on our total energy used for the billing period. Larger, commercial energy consumers, such as cold storage facilities, are often charged a higher number based on their highest demand.
The biggest reason that cold storage facility electricity bills are so high is due to expensive (and for the most part, entirely preventable) fluctuations in their demand. Things like power outages might not set off any alarms for most of us, but for cold storage predictions, such events, preparing for them, and managing the aftermath become vital to their operation.
What Can I Do To Reduce My Demand Charges?
Naya's tagline – Measure, Control, Save – is an apt way of summarizing its solution to this question. While this might seem a bit slogan-y, we can also put it another way; by tracking your demand charges, starting with the NEDI score, the first step is to understand what the problem is.
To understand the problem, Naya Energy measures energy consumption and monitors the health of all electrical equipment. Naya believes that you can't control what you don't measure. So measurement is always the first step in not only understanding demand charges, but also controlling them in a way that reduces the impact of demand on energy bill. After measuring and understanding consumption, solutions to save money and reduce consumption can be implemented.
Ways To Improve Energy Efficiency In Cold Storage Facilities.
While Measure, Control, Save might summarize the solution generally, it's important to touch briefly on some specific solutions, and some important questions that you should be asking yourself while implementing them in your cold storage facility.

Solar Panels
Solar is a popular solution to having a large energy bill, and while it is convenient, in that both its use is unobtrusive (who cares about roof space?) and it is a well established solution, there are some important questions to consider before covering your entire roof with solar.
Naya helps make sure your solar is doing its part by analyzing telemetry data, and actively managing and balancing loads. Additionally Naya makes it easy for solar customers to get the most out of their solar by asking and answering questions like; how much solar is too much solar?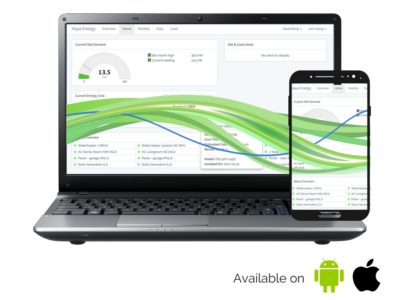 Energy Management Software
Energy Management Software is the most effective way to increase energy efficiency at your cold storage facility. Energy management software measures the performance and consumption of all your electrical devices, collects powerful energy data, and delivers actionable insights on units that are underperforming or are at high-risk of breaking.
This kind of software addresses questions like:
How do I know when a power failure is imminent?

Is my equipment running efficiently?

Can I identify equipment that is at-risk of breaking, before it breaks?
Naya sends customized recommendations called Nayalerts® directly to your phone, tablet, or computer, to help you avoid equipment downtime, and reduce energy consumption at your cold storage facility.
Thermal Energy Storage (TES)
Thermal energy storage is a very clever way of saving energy; it's basically a battery for a buildings air conditioning system. It allows excess thermal energy to be stored and used hours, days, or months later.
A great example of thermal energy usage includes the balancing of energy demand between daytime and nighttime, storing summer heat for winter heating, or winter cold for summer air conditioning (seasonal thermal energy storage). During off-peak hours, ice is made and stored inside IceBank energy storage tanks. This ice is then used to cool the building occupants the next day. This is one of many solutions that could work to save you money and lower your electricity bill.  
Naya Energy Helps Cold Storage Facilities Increase Energy Efficiency, While Decreasing Costs
Optimizing energy efficiency at your cold storage facility can be as simple as educating yourself about the energy problems that you are facing, which starts by understanding exactly how you are being charged for the electricity your facility uses. Naya Energy is the trusted energy management partner for cold storage facilities in the southwest, including everywhere from San Diego, California, to Nogales, Arizona, to Albuquerque, New Mexico.
Naya Energy protects the purchasers of power (commercial energy consumers) from the unwanted impact of demand charges, the unintended consequences of equipment going bad, and the misalignment of vendors' solutions to your specific needs.
Article written by Naya Energy contributor, Nikhil Patel
Contact us today to get more information on what you can do to save money and stop wastage at your cold storage facility today.