Cold Storage Case Study: Increasing Energy Efficiency
Refrigerated warehouses (cold storage facilities) have one of the highest electric energy consumption rates in the commercial building sector. After personnel, energy is usually their second highest operating expense. Cold storage facilities consume an average of 25 kWh of electricity and 9,200 Btu of natural gas per square foot per year, with refrigeration accounting for more than 70 percent of overall electric usage.
Optimizing energy usage and monitoring refrigeration equipment in cold storage facilities becomes imperative to reducing expenses, as well as improving food safety and increasing operational efficiency. While energy costs typically account for 15% or more of a warehouse's operating budget, it helps to understand (1) how you are being charged for energy and (2) what you can do to reduce those charges.

"Even after making the second investment in solar, my electricity bill barely lowered." – Miky Suarez, CEO of Mas Melons & Grapes
Mas Melons & Grapes, located in Nogales, Arizona, is dedicated to providing the highest quality fruits, including melons, grapes, and squash, all over the world. After making two substantial investments in solar, which completely covered the carports and the warehouse, Mas Melons had high hopes of reducing their electricity bill. Confronted with the reality of a barely reduced bill, Miky was forced to ask himself whether his solar was working properly in the first place.
Understanding How to Improve Efficiency in Cold Storage Facilities
In trying to understand their current situation, Miky posed a few core questions:
What is contributing to my demand charges?
Is my solar working properly?
What is the health of my compressors?
Do the compressors need maintenance?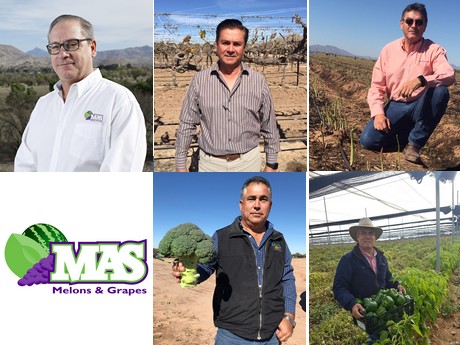 Naya Energy's core mission is to protect the purchasers of power (commercial energy consumers) from the detrimental impacts of rate changes, the misalignment of vendors' needs to our customers' specific needs and goals, and the unintended consequences of equipment going bad.
In fulfilling our mission, Naya helped provide clarity around the amount that Mas Melons was getting credited by the utility, what their current solar production levels were, and whether they were producing the right amount of solar relative to what they could expect.
Managing Demand Spikes
The worst fifteen minutes of demand for a cold storage facility in Nogales accounts for up to 60% of their energy bill. 75% of that number is then charged for the next 11 months. This can result in an extremely (and unnecessarily) high electricity bill, which could have easily been reduced by understanding and proactively managing demand spikes.
The Naya Approach
To better understand demand peaks, Naya Energy installed sensors on all electrical devices to track energy consumption, demand fluctuations, and equipment health in real-time. The Naya platform automatically sends alerts (called Nayalerts©) to Mas Melons if a demand spike is near or if a unit is underperforming or at risk of breaking, before it breaks. Naya also sends custom recommendations to save energy, reduce operating expenses, and increase overall operational efficiency.
The Key to Reducing Spikes in Demand
A motor failed at Mas Melons, creating a demand spike of 350 kWh compared to their low 5+ kW demand. The only way to tell if a demand spike is occurring, is by continuously monitoring and measuring the facility's energy consumption. Because Naya's platform was keeping a watchful eye on the consumption of all electrical devices, a custom Nayalert© was immediately sent to Miky's phone, alerting him of the demand spike, and offering solutions to mitigate it. This reduced peak demand, which increased savings for months to come. On average, Mas Melons was able to realize a 30 kW monthly reduction in demand.
Optimizing Solar Production and Energy Consumption

Naya's platform allowed Mas Melons to monitor the production and efficiency of their solar equipment, from any location, and from any desktop, laptop, or smartphone. After installing Naya ESP™ (Energy Sensing Platform), Mas Melons could see when their electricity use was peaking relative to their solar. This allows them to take corrective actions to ensure they get the most out of their solar investment, which includes extending the life of their solar equipment.
"Nayalerts® have made me more aware of the impact of closing my doors, and how the efficiency of my units, affects energy costs. I can now see my demand and solar production in real-time on the Naya Energy App." – Mario Moreno, Operations Manager
Improving Compressor and Equipment Health
One of Miky's concerns was understanding the health of his compressors and equipment. It becomes both time consuming and difficult to always worry about equipment going down, or unknowingly causing massive spikes in demand. Naya Energy takes the guessing factor out of the equation.
By continuously measuring the run-time and electricity draw of critical equipment and compressors, Mas Melons was able to significantly extend the life of their compressors and equipment. Being notified if a piece of equipment is running sub-optimally, is about to break, or simply needs maintenance, allows Mas Melons to save the time and money that it would take to perform routine checkups or to fix an issue after it has already escalated. Preventative maintenance reduces operating costs and increases facility efficiency by allocated resources more intelligently.
"Naya Energy has increased efficiency, lowered demand, and has given me peace of mind. When I go home at night,  I don't have to worry that a unit will break down without my knowledge or that my fruit will be ruined when I return to the warehouse."– Mario Moreno, Operations Manager
Optimizing solar production and equipment health with Naya Energy's platform resulted in10,560 kWh increased equipment and solar efficiency.
Finally, Someone on Your (Commercial Energy Consumers) Side!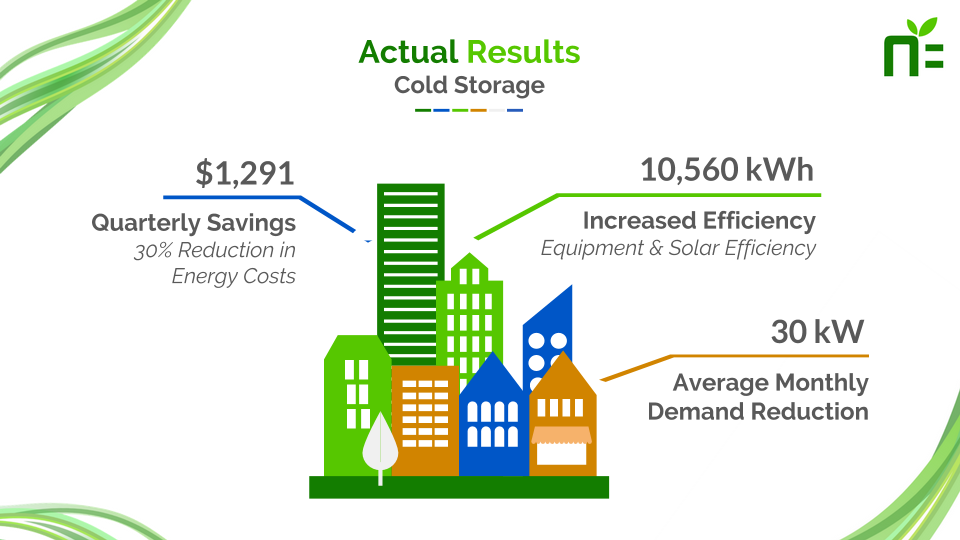 Mas Melons noticed that in March, their utility bill was 30% less than it was last year, even though it was 5 degrees hotter! Naya Energy helped Mas Melons become more aware of electricity peaks and has provided them with the knowledge to make better energy and business decisions.
"It's nice to have someone on our side that is looking out for our best interest with electricity costs." – Miky, Mas Melons CEO
If you have a cold storage facility and would like to learn more about our solutions, fill out the form below and someone will be in touch shortly.